Designer Orsi Panos transforms tight quarters into an open airy abode with a Mid-Century Modern twist.
Great things are born of great friendships – and the perfect design is a perfect example. That's why designer Orsi Panos always interviews prospective clients before taking on a new project. "If we're going to be in each other's lives for more than a year, we have to like each other," she says. "Designing a house for someone is really special and intimate, so my clients and I often become great friends by the end."
Read also :
A neutral home with a dynamic mix of furniture styles
That's what happened with homeowners Janet Taylor – an artist – and her wife, who hired Orsi to design the main floor of their Toronto home after seeing how she transformed their neighbours' house. Straying from the polished-yet-rustic look of the house next door, they wanted to open up the space and imbue it with a contemporary casual vibe. Though their design vision was drastically different from the example the couple saw, they knew Orsi was their match after one quick meeting. "We walked away saying, 'This is someone we know we can work with,'" explains Janet.
She was right. "My main directive was to fill the house with light," says Orsi, "which is perfect, because that's my driving force in design, too. Natural light makes everything come alive."
After knocking down walls to open up the main floor and allow light to flow through, Orsi set about switching up the layout to better reflect the homeowners' lifestyle. Since they spend most of their time in the kitchen, Orsi kept it in the centre of the home and expanded the living room to the back, where the homeowners could lounge, entertain and best enjoy their beloved garden. Orsi also replaced the seldom-used formal living-dining room with a spacious dining room that feels elegant yet inviting.
The decorating details came next, and Orsi was able to fulfill the homeowners' requests for a pared-back Mid-Century Modern feel that incorporates heirloom furniture, a blend of warm woods and their extensive art collection. They were thrilled with the process. "Orsi would just show up and read my mind," says Janet. In fact, it went so well that Orsi just finished designing the couple's third floor – and both parties are confident their friendship will continue for many years to come.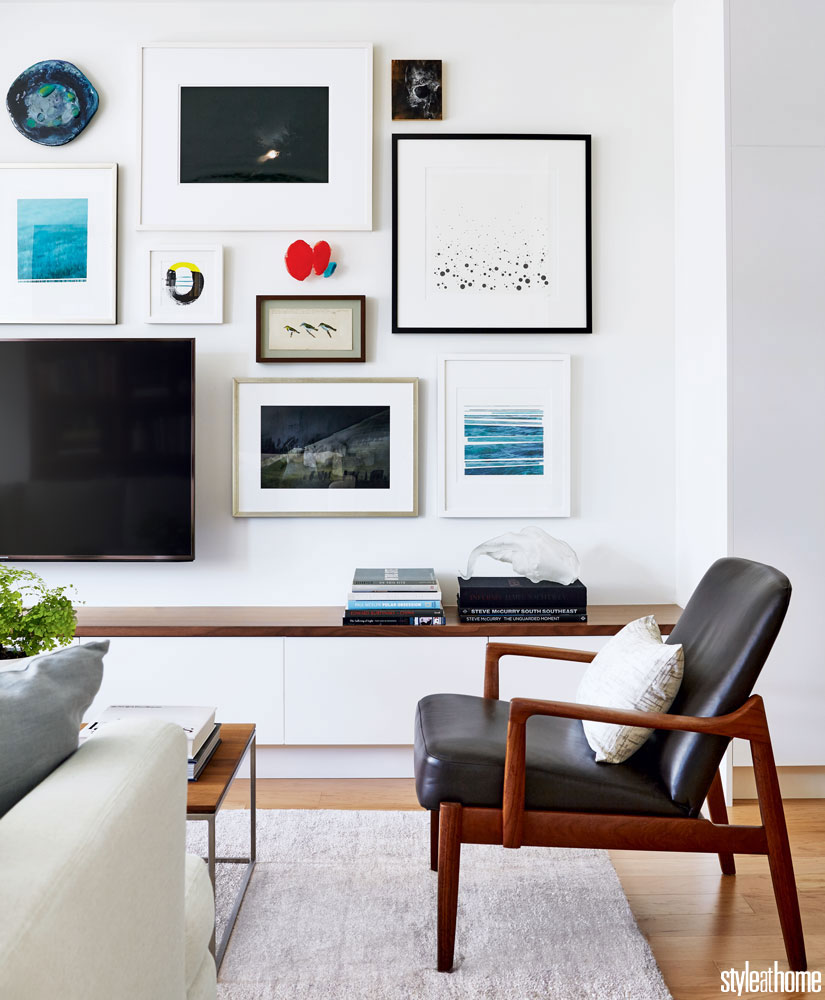 Gallery walls can pose a bit of a puzzle – and even with designer Orsi Panos, framing expert Tara Gavin and artist and homeowner Janet Taylor on site, this one took the better part of a day to map out and hang up. But the effort was worth it: The rich mix of frames, shapes and styles delivers a layered look while disguising the television in plain sight.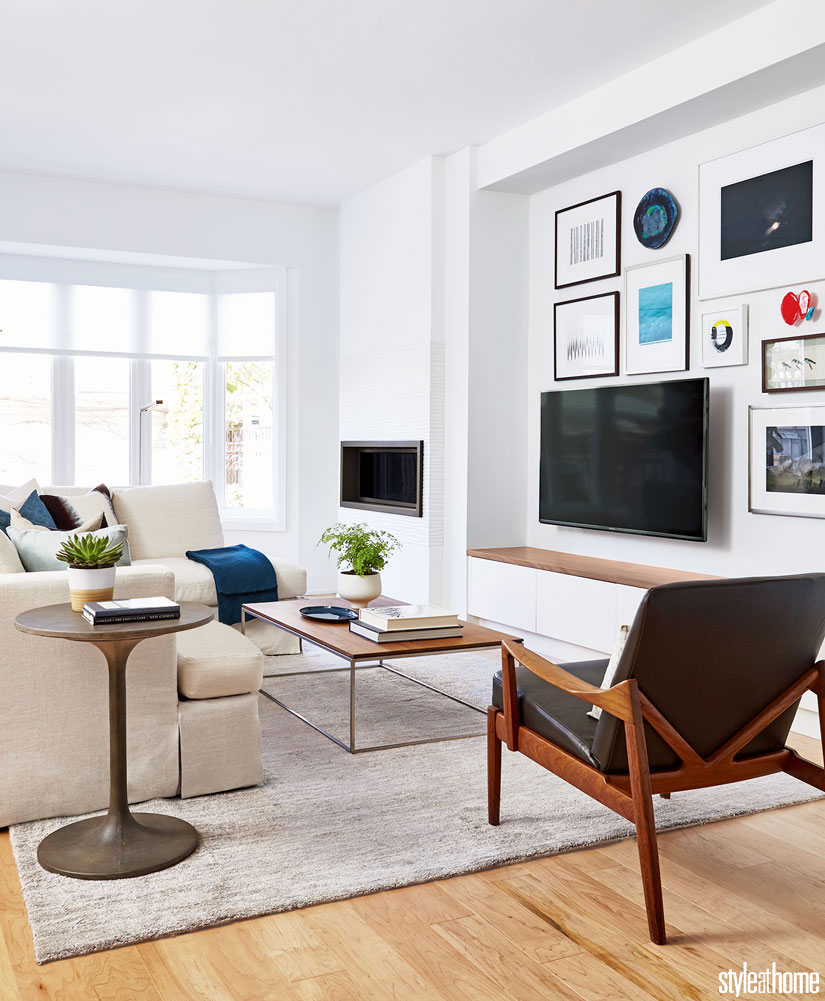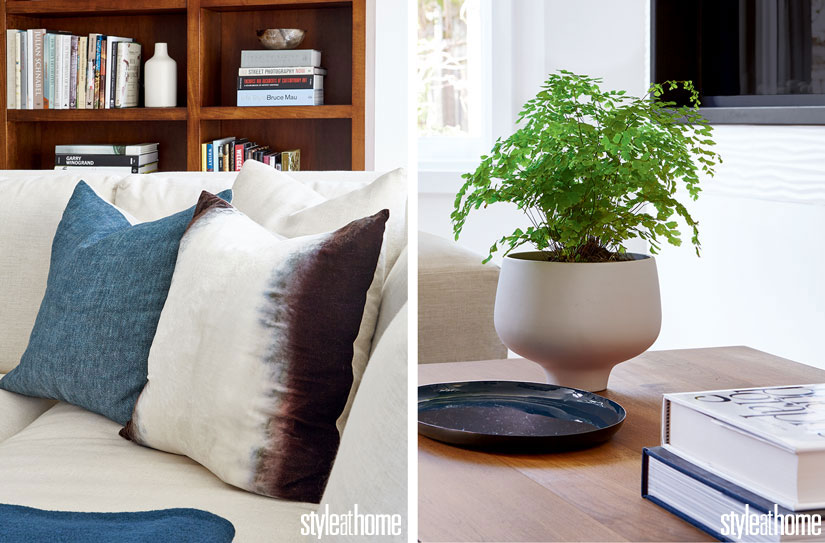 "We wanted to include a fireplace for ambience, but we didn't want it to be a main feature," says Orsi. Set off to the side and surrounded by a wavy textured tile treatment, it has a look that is artistic yet subtle – the perfect pared-back counterpoint to the lively gallery of beautiful artwork beside it.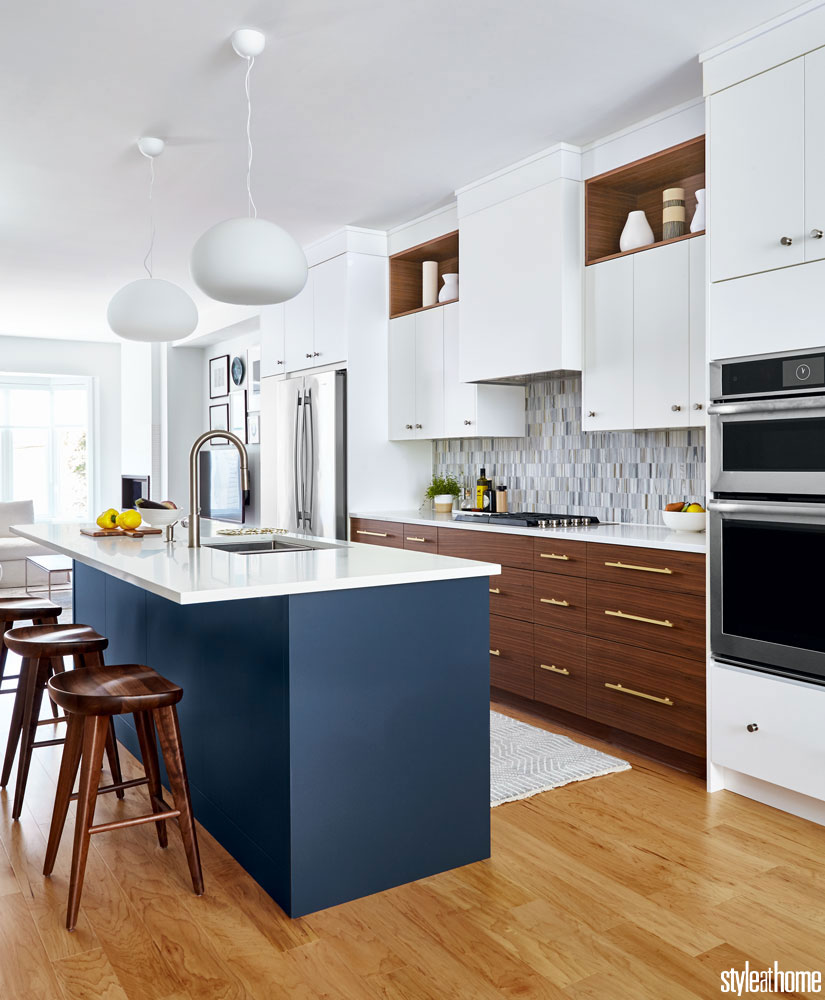 "My wife and I are both pretty short," says Janet. "And we wanted the kitchen items we use daily to be within easy reach." That's why Orsi planned for ample below-counter storage. "Everything except glassware is in those drawers," says Janet. Avid collectors of artisanal pieces, the homeowners displayed their favourite ceramics on the open shelves up top.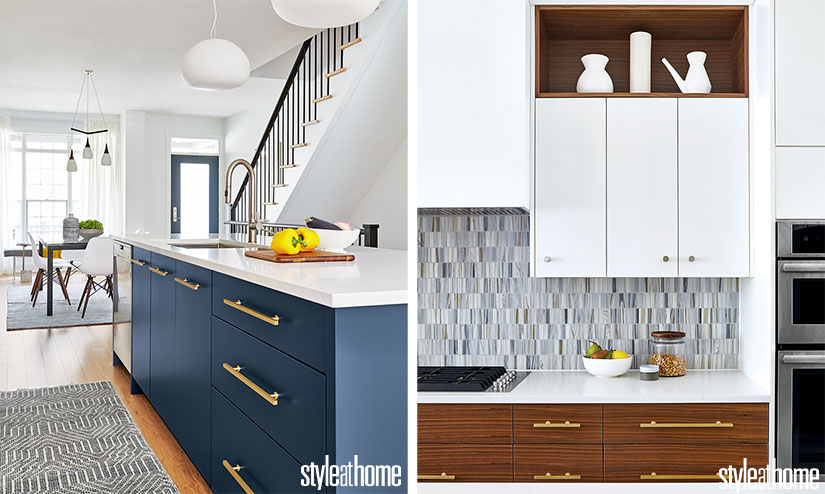 The kitchen is a beautiful balance of colours and materials – as well as the requests of each homeowner. One wanted brass while the other favoured stainless steel (hence the hardware mix), and while both wanted finishes in walnut and white, one really wanted blue. "Luckily, I managed to find the perfect backsplash tiles to pull it all together," says Orsi.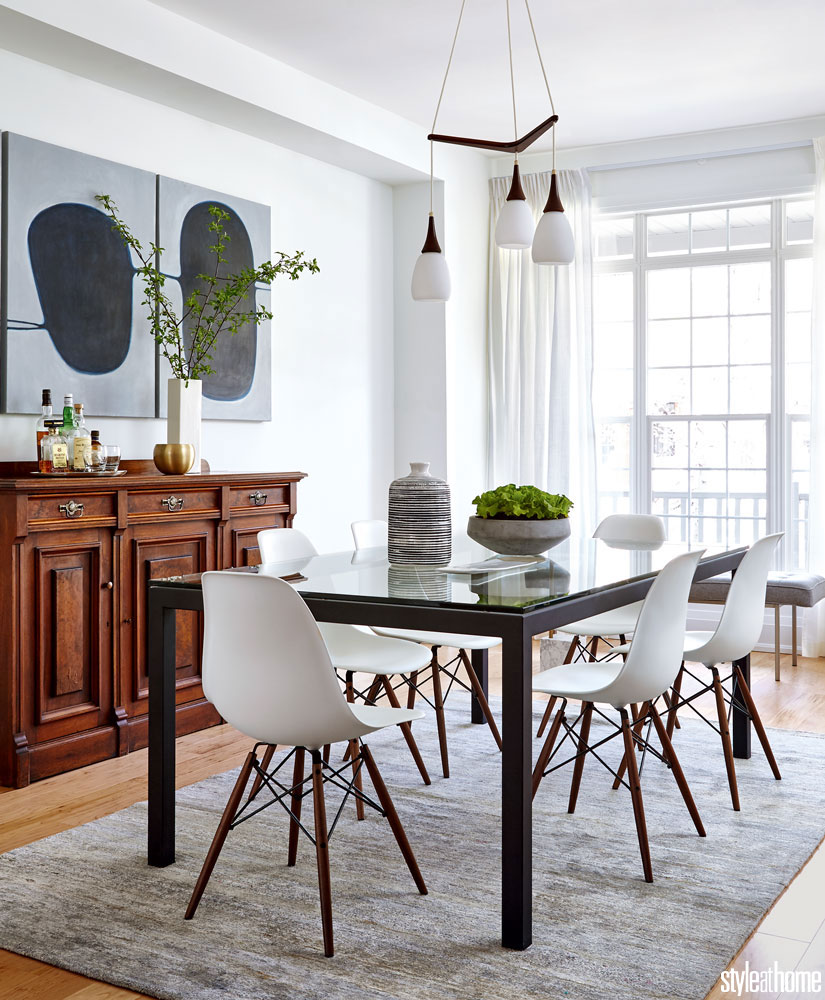 A mustard-toned throw on a bench in the dining room window proves a small pop of colour goes a long way.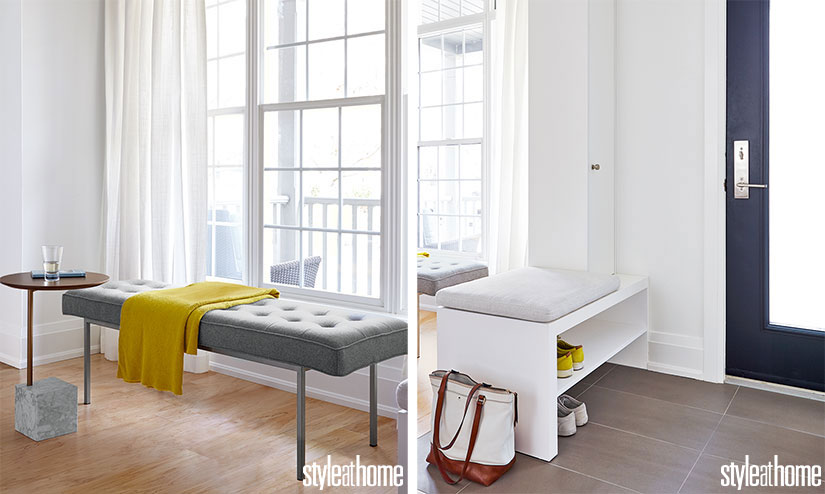 The built-in entryway bench serves several purposes: It offers a place to sit when taking off boots, stores shoes and helps delineate the foyer from the adjacent dining area.